Neighbours: The Charlene Years Volume 1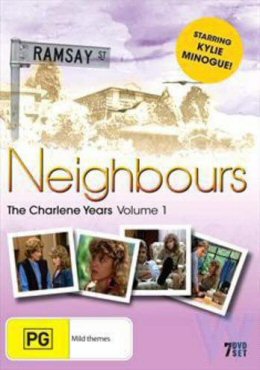 Shock 2011 - KAL 2298
(Duration: 1408 minutes approx)
[PG] - Mild themes, violence and sexual references
Cover description
Relive those memorable moments with one of Neighbours most beloved characters, Charlene!

Neighbours, the long-running Australian television soap opera first broadcast on the Seven Network on 18 March 1985. Through its entire run in Australia, Neighbours has been screened as a twenty-two minute episode each week night in an early-evening slot. The show has been sold to over fifty countries around the world, making it one of Australia's most successful TV series!
---
Disc contents
---
Our comments
This seven disc set contains 64 consecutive complete episodes in their original Australian broadcast form, as shown from March to July 1986 of which only three have previously appeared on other commercial DVD releases. Sadly, to date, there still hasn't been a 'The Charlene Years Volume 2'.