Neighbours: Defining Moments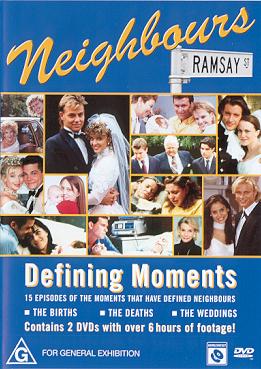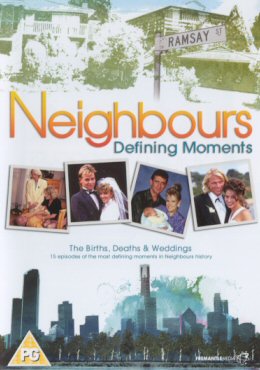 Left: Original cover | Right: Re-release cover
Rajon Vision 2002 - RV0001 (Australia)
Rajon Vision 2003 - FHED1736 (UK)
(Duration: Approx 365mins)
[G] - For General Exhibition
Also released on VHS in Australia as RVID0001.
This double disc set contains fifteen complete episodes featuring the most memorable births, deaths and weddings in the show's history. The contents are as follows:-
A photo gallery containing relevant publicity shots is included as a bonus feature on disc 1. The episodes are in their original format as broadcast in Australia, including break bumpers and full credits with sponsors. However on the DVD version the two episodes for Libby's baby have been merged together and the credits for 3920 and the opening titles for 3921 aren't included. The final four episodes are in 16:9 full height anamorphic widescreen.
Re-released in 2007 with a different cover to reflect the change in Neighbours logo and opening titles at the time