Neighbours: The Music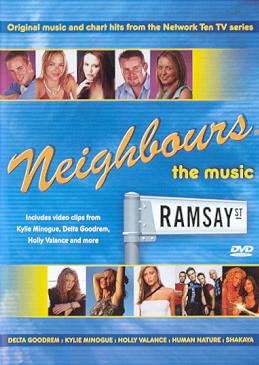 Sony Music Video Enterprises 2003 - 5100663000
(DVD Running Time: 36 mins total approx)
Following years of lobbying from Neighbours' fans and endless questions on whether the music from the show was available to buy, this combination CD and DVD package was produced in 2003.
The CD contains a mixture of songs by popular Australian artists that have been used on the show and some 'in house' tracks that are frequently heard. The DVD consists of songs by the various Neighbours' stars who have gone on to have recording careers, plus Holly Valance's appearance in Human Nature's 'He Don't Love You' video, and the promo video for Angry Anderson's 'Suddenly' which became famous after being used as the background for Scott and Charlene's wedding.
The same two-disc set is also available in CD-style packaging.
DVD:
Kiss Kiss - Holly Valance
Born To Try - Delta Goodrem
Locomotion (1987 Australian single version) - Kylie Minogue
He Don't Love You - Human Nature
Too Many Broken Hearts - Jason Donovan
Mona - Craig McLachlan and Check 1-2
Don't It Make You Feel Good - Stefan Dennis
Mad If You Don't - Gayle and Gillian Blakeney
Suddenly - Angry Anderson
Especially For You - Kylie Minogue and Jason Donovan
CD:
Neighbours Theme - Janine Maunder
Born To Try - Delta Goodrem
Lie
Way Love's Supposed To Be - Selwyn
One Good Reason
Stop Callin' Me - Shakaya
Flowers - Janine Maunder
Three Dimensions - Something For Kate
What Now My Friend
He Don't Love You - Human Nature
Won't You Be
Takin' Back What's Mine - Leah Haywood
4 Your Love - Human Nature
Afterwords (You're So Right) - Endorphin
Miracle
Hard - Stella One Eleven
Sea Of Love