Neighbours 6 - Carl Ruhen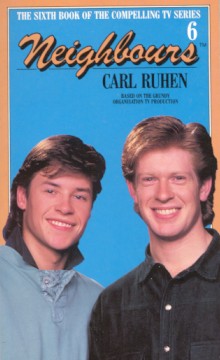 A Star Book published in 1988
by the Paperback Division of W.H. Allen & Co Plc
Novelisation Copyright © Horwitz Grahame Pty Ltd, 1988
ISBN 0 352 32379 5
UK: £2.50 Canada $6.25 NZ: $11.99 (155 pages)
Cover description
Mike Young is viciously slandered in a poison pen letter and Jim Robinson becomes romantically entangled with a woman with a secret. Consequently Helen Daniels begins to feel redundant in her own home until an old friend comes back into her life and reveals some shattering news.

Des Clarke blames Clive when Daphne is struck down by a potentially fatal disease and Nikki Dennison's mother's health is also giving cause for concern. Meanwhile the efforts of Scott and Mike to become rich and famous prompt a cruel practical joke that has surprising results.

And finally Paul Robinson is involved in a major building development that threatens the very existence of Ramsay Street!