'Neighbours: Home Truths' - Unsolved Crimes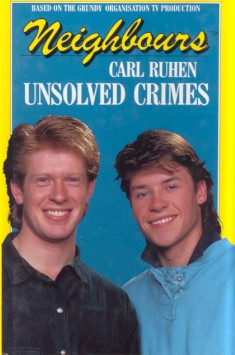 Novelisation © 1988 by Horwitz Grahame Pty Ltd
This edition specially produced for The Leisure Circle Limited
by W.H. Allen & Co. Plc
(160 pages)
Cover description
When Warren Murphy is brutally assaulted after a party, Charlene's loss of memory places her under a cloud of suspicion. In the meantime, Helen Daniels is abducted by a maniac masquerading as a clergyman and Daphne Clarke takes in a delinquent girl with a predilection for snatching old ladies' bags.

The whole street becomes involved with the grudge boxing match between Shane Ramsay and Mike Young over Jane Harris, much to the disgust of zany doctor Clive Gibbons, who has his own ideas about putting a stop to the mayhem.

And the question on everybody's lips is could the prying and self-righteous Mrs Mangel really have committed murder most foul?