Home > Episode Guides > 1999 Season
Neighbours - Episode 3418
Block/Week: 684
Transmisson dates
Network Ten: 20/10/1999
BBC: 12/01/2000
UK Gold: 31/03/2005
Written by Jeff Truman
Directed by Gary Conway

Karl and Susan discover who sold them up the river. Joel is still reeling from Liam's visit, when he decides to call it quits with Natalie. Ruth, Phil and Hannah leave for Darwin. No sooner have they left than the new family arrive with a bang.
Guest stars
Natalie Rigby: Nicki Paull
Pippa Layton: Natalie Shostak
Joe Scully: Shane Connor
Lyn Scully: Janet Andrewatha
Stephanie Scully: Carla Bonner
Felicity Scully: Holly Valance
Michelle Scully: Kate Keltie
Bob: Trained by Anne Hura
Bonnie: Trained by Jason Hura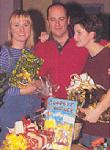 Available on the Neighbours: The Iconic Episodes Volume 1 DVD collection.