Home > Episode Guides > 1999 Season
Neighbours - Episode 3419
Block/Week: 684
Transmisson dates
Network Ten: 21/10/1999
BBC: 13/01/2000
UK Gold: 31/03/2005
Written by John Davies
Directed by Gary Conway

Libby gives Drew an ultimatum. The Scully girls cast a flirtatious eye on Ramsay Street when they unpack their stuff, and Bill takes possession of Anne's memories.
Guest stars
Jeff Rowlings: Paul Robertson
Dahl & Casserole: Trained by Jason Hura
Joe Scully: Shane Connor (
uncredited
)
Lyn Scully: Janet Andrewatha (
uncredited
)
Stephanie Scully: Carla Bonner (
uncredited
)
Felicity Scully: Holly Valance (
uncredited
)
Michelle Scully: Kate Keltie (
uncredited
)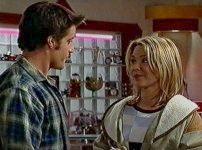 Available on the Neighbours: The Iconic Episodes Volume 1 DVD collection.