Neighbours 4 - Carl Ruhen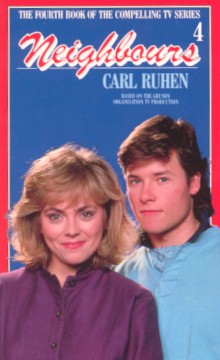 A Star Book Published in 1988
by the Paperback Division of W.H. Allen & Co. Plc
Copyright © Horwitz Grahame Pty Ltd, 1988
ISBN 0 352 32284 5
UK: £2.50 Canada $6.25 NZ: $11.99 (157 pages)
Cover description
Des Clarke has an agonising decision to make for the sake of the boy he believes to be his son, while Jim Robinson's involvement with a much younger woman sparks off a family crisis that almost ends in tragedy.

Lucy Robinson comes close to death and there are unforeseen consequences when Nikki Dennison poses as Lucy for a dinner date with a sporting star.

The dreaded Mrs Mangel moves into the street and Madge Mitchell is forced to face a bitter truth. Meanwhile Mrs York from down the street begins to behave very strangely.