Neighbours 3 - Carl Ruhen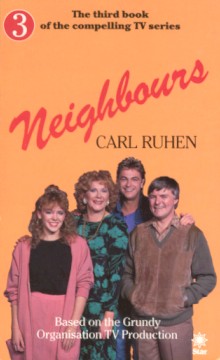 A Star Book Published in 1988
by the Paperback Division of W.H. Allen & Co. Plc
Copyright © Horwitz Grahame Pty Ltd, 1988
ISBN 0 352 32201 2
UK: £2.50 Canada $6.25 NZ: $11.99 (154 pages)
Cover description
When Max Ramsay's sister, Madge, moves in uninvited, the sparks really begin to fly, but there is pandemonium - including a wedding that goes disastrously wrong - when a gorilla also takes up residence in the street.

Meanwhile Shane Ramsay meets an attractive young divorcee with a sinister obsession - and when Des Clarke's past catches up with him in the most alarming way, the whole street is up in arms against him.

As if that wasn't enough, Scott Robinson, who is facing a rape charge, suddenly disappears - and Max Ramsay finds himself preparing to meet his maker!